A once-in-a-lifetime way to see Jaipur, by Vintage Jeep!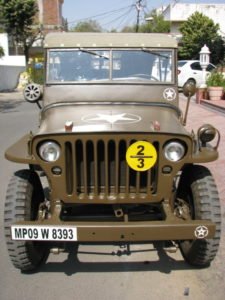 We are proud to announce that Pearl Palace Hotels has launched full-day tours of Jaipur in our restored and licensed vintage Jeep. This is one of the few surviving jeeps left behind by the British, who acquired them as part of the Lend Lease arrangement with America. All that just so you can enjoy an open air tour of India's Pink City. Beginning at your hotel doorstep – we promise a unique comprehensive, and professional Jaipur tour.
You'll see the many-windowed Hawa Mahal, glimpse the water-bound Jal Mahal, explore Jaipur's impressive Amer Fort, peer down on high from the Tiger Fort, experience the somber Gaitore Cenotaphs and finally see The City Palace. Along the way your English speaking guide will provide the group both a historical AND local perspective on the many wonders of India's Pink City.
Tour start time and cost:
We arrange all of the hotel pickups so that all guests are on-board the jeep before our 9:00 a.m. start time. This allows everyone a full day of touring. The fee for the Jaipur Vintage Jeep Tour is Rs 2500 per person – limit 3.
Some of the sites seen may require an admission fee or have other optional expenses you may or may not choose to indulge in. Unlike some tour operators – we do not include and then "mark-up" these fees. We believe that simply paying-as-you-go is the most honest and transparent way to handle the situation. We will have completed the tour and begin dropping guests back at their hotels at 5:30 p.m.
What's
included

in the Vintage Jeep Jaipur Tour by Pearl Palace Hotels?
Free Pickup and Drop-off at your hotel, even if you are not staying with us.
Our EXCLUSIVE vintage US Army 1942 Ford Jeep.
English-speaking government-licensed local tour guide.
Licensed, experienced driver.
A FULL-DAY six site tour of India's Heritage City. (8 hours on average)
Demonstration of local Jaipur styles of artwork – block printing & stone cutting.
Small tour group size, maximum of 3.
Freedom, our guide works to accommodate your needs.
What's NOT included in the Jaipur Tour?
Jaipur Monuments Entry Pass

(On occasion, price varies by your country of origin.)
Lunch. Midway through the day, we make a stop at a clean, quality restaurant. You may dine as you wish.
Camera Fees (Some sites charge a fee per camera. Sadly, this is common in India.)
Amer Fort Jeep Fees (Optional Jeep ride uphill from parking lot to Amer Fort via a 3rd party.)
Amer Fort Elephant Ride (Optional Elephant ride uphill from parking lot to Amer Fort via a 3rd party.)
Worry (We carry the worry for you.)
How can I book a Pearl Palace Jaipur Tour?
Tours may be booked at the 24-hour front desk of The Hotel Pearl Palace or The Pearl Palace Heritage Guesthouse.
TOURS ARE SUBJECT TO AVAILABILITY AND ARE FIRST COME FIRST SERVED.
With enough notice, we can arrange a buy-out of the entire jeep for your private group.
By email: reservation@pearlpalaceheritage.com
By phone: 0141-2373700 (Front Desk)
By mobile phone: 9829404055 (Tour Manager)

After the tour, return with us to Hotel Pearl Palace. Our award-winning restaurant The Peacock Rooftop is waiting to serve. Enjoy 360 degree views of the city, sipping chai while you upload images from your exciting Jaipur tour – over our free guest wifi. We look forward to seeing you.